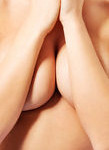 by MindiMeira
June 14, 2014
Small and high
Barely there
Uncle's hand
Demanded his share.
Delicious sensation
Shot down, down there,
Nipples caressed
Made my life unfair.
Firm and round
Breasts were power
Used to attract
Got me used and deflowered.
And if ever approached from behind
I was reminded of that younger time
Any pleasure quickly became shame
Out of the body, I would climb.
Then heavy and large, for nine blessed years,
To six, these breasts fed life.
I lived to serve and I became
The Best Mother, The Best Wife.
Breasts used, and breasts given,
To men , as if they were toys.
Such confusion with uncle and husband,
Sustenance to the boys.
Now at fifty, breasts sag.
 They're flat.
Discipline, nutrition and exercise
find me strong and youthful,
But when it comes to breasts,
That  is that.
Victoria Secret bras enhance my look
So grateful for the lift,
And now I wonder and I dream
Can I give myself a gift?
A lift, implants, too expensive,
It's surgery, requires care.
But all the inconvenience
Would mean I CHOOSE MY BREASTS,
If I dare!
They may no longer be natural
Some will judge, I won't care.
Cause it's my life and I get to choose
everything about my breasts,
If I dare……….